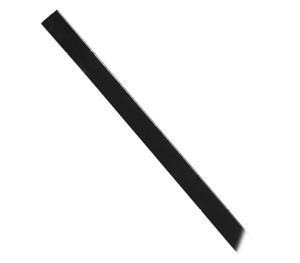 96" Black Tension Bar
The American Fence Company
SKU: 11017B
Regular price $15.16 Sale
---
Secure your chain link fabric with our 96" Black Tension Bar. Tension bars pull your fabric tight, ensuring it is straight and even. 
Pair with tension bands 
For a 8' fence 
Black vinyl coating
Resistant to rust
How the part fits? A 96" tension bar is actually 94" in length. It is designed to fit through the last weave of the chain link fabric at the point of termination.
Where is it installed? The tension bar is installed at every point where you terminate your chain link fence. 
How many do you need? You will need (1) 96" tension bar at every corner, end, and gate post. For every stretch of fence, you will need (2) total.
Once you have installed your post, framework and top rail, you will take the end of the chain link fabric and place it up to the terminal post. Start at the top of the chain link fabric and insert the tension bar down through the bands and the weave of the chain link until you get to the bottom. You will then tighten all the tension and end bands to hold the tension bar in place.