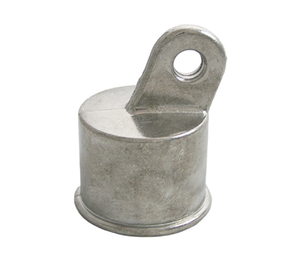 1-3/8" Aluminum Rail End
The American Fence Company
SKU: 10703
Regular price $1.62 Sale
---
Use this 1-3/8" Rail End along with a brace or end band to attach the top rail to the terminal post.
Galvanized for superior corrosion resistance 
Also available in Black; Part# 10703B
Does not include a Carriage Bolt & Nut 
How the part fits? 1-3/8" rail end has the inside diameter of 1-3/8". It fits over 1-3/8" O.D. top rail.

Where is it installed? 1-3/8" Rail end is installed at the end of the top rail. You will need a rail end at every point of termination.

How many do you need? For every stretch of chain link fence, from terminal post to terminal post you will need (2) 1-3/8" rail ends.
1-3/8" rail size, .17 weight
The 1-3/8" rail end is attached to an end band; the end band is the size of the diameter of the terminal post. 1-3/8" rail end is attached to the end band by sliding the rail end in between the tangs of the end band. You will then slide the 5/16" x 1-1/4" bolt through the end band and rail end.